Long Island-based retailer HauntedProps.com takes it to Amazon after discovering the online retail giant is profiting off of their name.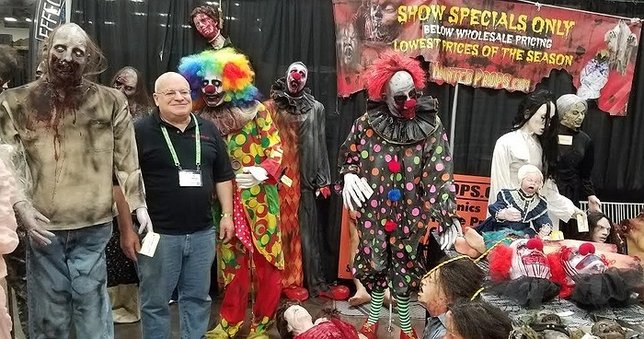 HauntedProps.com is a website that carries a wide range of Halloween and haunted house related products, from animatronics to costumes, masks, and everything in between. And while they're considered a heavy-hitter in the online spook scene, they recently came up against, and vanquished a truly monster-sized entity – Amazon.com – which had attempted to use HauntedProps.com's legally-trademarked name to boost their own profits.
Joe Persampiere of Deer Park created HauntedProps.com back in 2006, stating that he'd been avid fan of all things creepy and crawly for as long as he could remember. "I grew up loving Halloween ever since I was little," he said. "Nowadays, it's gotten so huge, in this country especially. In fact, Halloween has become very saturated right now...you'll find, literally, dozens of haunted houses everywhere. But back when I was a little kid, we didn't have much of anything all...we just went trick-or-treating while wearing masks and costumes that we got out of a box, but it was so much fun."
As he grew older, Persampiere sought to address what he perceived to be the lack of Halloween-related activities in his area by opening up his own amateur haunted houses (known in the industry as a "Home Haunt") using whatever props and materials he had on hand. Eventually, this led him in the direction of becoming a Halloween prop supplier himself, he said.
"I grew up in the family business – they had an office supply company – and in 2006 I decided to open up my own website and sell Halloween-related products," he said.
"I decide to do web-only because all businesses are changing today because of the internet…being in retail today is very difficult, especially when it comes to Halloween supplies, because you only have a window of a month or two during the year where you're busy. So I decided to do a website instead, and what helps with all of that is all of the international business I do."
Persampiere notes that he regularly ships scary supplies to every continent, including South America, Europe, and Asia. "We're working on a project now in Pakistan," he said. "They don't actually celebrate Halloween there, but you'll find that almost every country in the world has a haunted house of some sort. We've even shipped to Saudi Arabia, believe it or not."
Often, in business, securing the right name in order to convey what it is that you stand for is vital for success; Persampiere, by sheer luck, discovered that 'Haunted Props' was available for the taking, and jumped at the chance to own what he called the perfect name for his budding company.
"I picked that name out, and I was very lucky to get it. Most web sites that I see that sell Halloween products don't use a proper name, so most people don't know what kind of business they are," he said.
"About two years ago, I had a lot of people in Asia asking if they could use my name... I already own the domain name HauntedProps.com, but I started to get worried that people would start using the name of the company, so I decided to get the name trademarked. I got some trademark attorneys who took a shot, and they managed to get it approved... I actually own the trademark on the name 'Haunted Props' now."
With the trademark on Haunted Props successfully secured, Persampiere soon started doing searches to see who may have been using it illicitly, and upon discovering several smaller vendors who were, reached out to request that they cease doing so.
"There are a few other websites that were using the 'Haunted Props' name, but I just sent them a simple email, a nice letter and they all backed off with no problems," he said.
"I can be very aggressive with legal matters, and if the first request wasn't honored, then I would've pursued it in court. But no one has ever pushed me to that level. Everyone's been very respectful and cooperative, which I appreciate a lot."
However, while doing his research, he soon discovered that not all of the vendors using his copyrighted name were small-time…one of them, in fact, was the biggest of them all: online retail behemoth Amazon.com, whose website was littered with ads for Halloween merchandise making liberal use of Persampiere's legally-trademarked term.
"Amazon is the biggest retailer in the world, and they were using the phrase 'Haunted Props' in their advertising and that's a no-no, because people would think that's my name," he said.
"Technically, I could have sued them for millions of dollars, because I do feel that by using that term, they damage my business in some way...they were attempting to steal customers away from me, and you can't do that. This was definitely done on purpose, because Amazon has countless people out there, checking terms and search engines and the most popular websites, and they based their advertising on that."
It turns out that Amazon had been using the trademarked 'Haunted Props' term for at several months before Persampiere had discovered them. Expecting the worst from a corporate giant with deep pockets and an army of legal representation, he geared up for a courtroom tussle that surprisingly, he said, never came.
"I had my attorneys contact Amazon, and I figured they would fight it, but much to my surprise they backed off right away. Once my lawyer is contacting them, they sent back a letter apologizing and noting that they would remove everything right away," he said.
"It took them a few weeks to get everything down, because there's such a big company, but they were very helpful and apologetic about the whole matter. That was a very big win, almost like a David and Goliath thing, because I'm a little guy."
When it comes to standing out in a crowded field, sometimes a name is all a business looking to get ahead has to fall back on; defending that, especially when it's a popular trademarked term, can be a full-time job.
However, Persampiere expresses gratitude to his fellow web entrepreneurs – and Amazon.com, of course – for not stepping on Haunted Prop's toes, legally speaking, leaving him to do what he does best… supply the planet with the spookiest Halloween merchandise available year-round.
"Trademarking the phrases 'Haunted Props' and 'HauntedProps.com' was a stroke of luck, and I'm very fortunate and proud to have been able to get them," he said.
"It's helped my business a great deal, and I appreciate these other companies being very cooperative with me as far as helping me to retain and defend my trademark."